News
---
Rigged for Live Stream

10/04/2020
Tomorrow evening you can all enjoy some cozy Gula vibes when The Ark and Jill Jonsson goes live on national TV.
---
The Washiwash Song

30/03/2020
Gula Studion and the animation house Bloody Honey has made a video about how to wash your hand according to WHO standards. Stay safe everybody!
---
Deagan Chimes y'all!

10/03/2020
You don't know you need them until you try them. Tore Johansson has blessed us with his Deagan electric chimes, a must-have in every serious recording facility.
---
These booths are made for tracking

10/01/2020
We at Gula love to build. So now we build a new isolation booth that will double as a sound lock outside the Stone Room. No straight angels, no parallell surfaces, just how we like it!
---
Thomas Troelsen is Back!

26/12/2019
He's a living legend and a helluva producer. Last time Jens and Thomas worked at Gula was 2004 when Thomas produced Junior Senior. Now he's back for a X-mas special session. Expect to hear some wicked stuff from the former Superheroe singer soon.
---
Bosko Jovic

21/12/2019
Super guitar player Bosko Jovic is back at Gula to record some superb nylon string magic for the upcoming Sevdalini album.
---
Tenor Guitar

14/10/2019
This beautiful Framus Tenor  guitar is now part of the Gula sound, thanks to our good friend Harald Leander.
---
Steinwayday

12/09/2019
Today we had a wonderful session of Steinway sound. Simon Peyron, Ellen Benediktsson and Andreas Stone brought the music, Gula studion brought the instrument.
---
Gula Studion Wins Kristallen

02/09/2019
The TV program Livet i Mattelandet won Best Children's Program at the Kristallen awards last Friday. It's like a Swedish Emmy. We are very proud to have written all the music and lyrics to these programmes over the years.
---
Timbuktu & Damn! in rehearsal

10/06/2018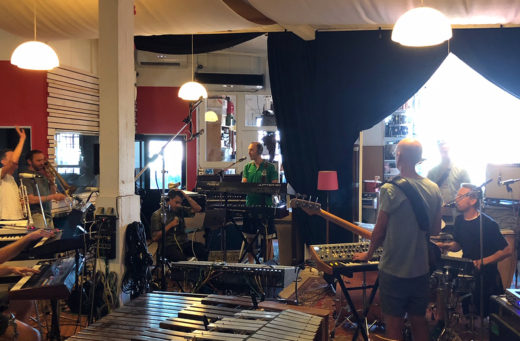 Timbuktu and Damn! are back in the building. There is a tour this summer and the crowds are hungry for new stuff from the country's best live act.
---